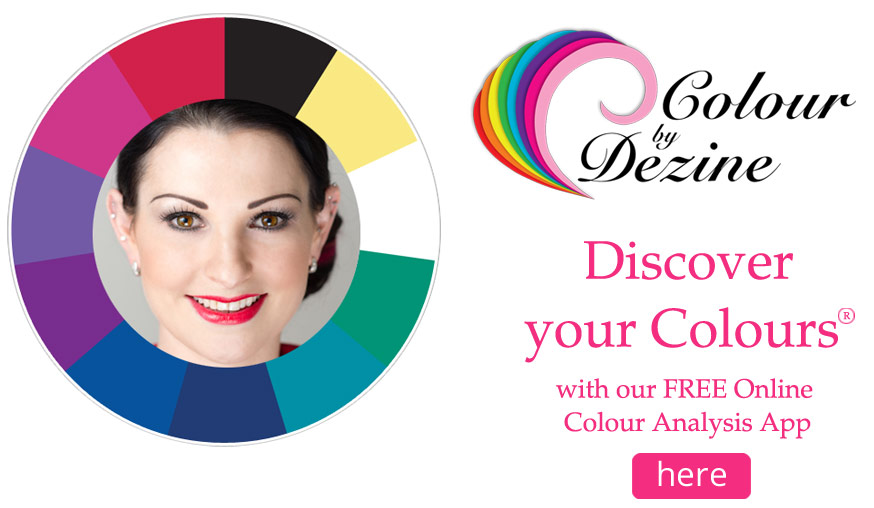 Looking good has never been so easy
| | |
| --- | --- |
| | Learn what are your best personal colours and your best makeup selection so you can feel confident to wear colour to look and feel more self assured. |
| | Our Online Discover your Colours Analysis will select your Personal, Skin, Hair and Eye Colours so we can prepare your Personal Palette of 40 individual colours. |
| | We have over 15,000 possible palettes in our system - Your colours are unique to you. |
| | Stop making costly mistakes - when you shop with your Personal Colour by Dezine® Palette you will develop a fully co-ordinated wardrobe. |
| | By now you will be seeing the power of knowing your own colours. No dress, hairstyle or makeup can achieve the radiance as created by your own personal Colours and Colour matching Cosmetics |
| | We believe we have the BEST Color online system and you will become very excited when you find your right colors. |
| | Let our "Discover your Colours" FREE Online app Colour Analysis assist you, and when you purchase your Personal Palette and Style Portfolio, plus Colour matching Cosmetics, you will be your own Colourful Confident Stylist . |
Examples of Personal Palettes


How many times have you stood in a fitting room asking yourself – does this look good on me?
Is it the right Colour, Line, Shape, Length?
How many mistakes do you have hanging in your wardrobe?
Have you thought about how much money you have wasted?
Do you have a wardrobe full of clothes and nothing to wear?

Well we have the solution!!
Once you know your own personal Colour by Dezine® Palette of Colours - you can Complete your look with our Online Personal Style Analysis - complete with your own Personal Style Portfolio available in Ebook or Bound Copy.

What is "In Fashion"? You are only In Fashion if it suits you.. and we have prepared a Step by Step Portfolio to assist you in making the right choices depending on your Personal Face and Body Shape
Once you complete the questionnaire, we can prepare your Personal Portfolio. This 75 page booklet covers the steps from: The language of Colour, Basic Wardrobe, Organize your Wardrobe, Footwear Styles, Accessories, Hairstyles, Glasses and Hat Shape for your face shape, Your Proportions, Body Shape, Camouflage Dressing and the list goes on...
So let's get started ....